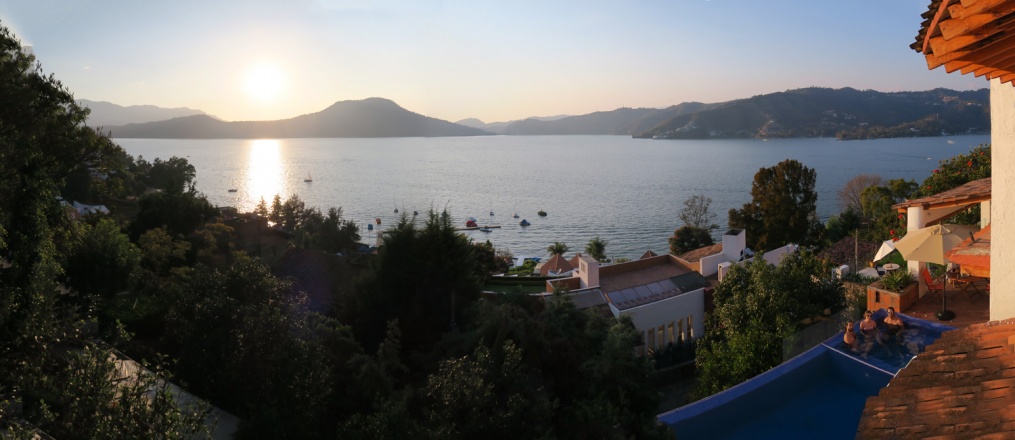 It's this time of year again, when we gringos brush the dust off our half-frozen wings, pack them in a big bag together with some shorts, flip flops and sun screen, and migrate south to the winter promised land of Latin America to enjoy that warm, half-forgotten sunshine softening the harsh white of our skins, the mellow vibe of daily life among the locals (not to mention other daily trivialities, like fresh tropical fruit, veggies, and all kinds of other culinary luxuries), and some of the best natural playgrounds in the world for our Game in the skies.
This winter we're migrating to the legendary Valle de Bravo in Mexico for the annual Paragliding World Cup Super Final, where we're going to crown our male and female Champions for season 2015.  And the week before, starting Jan 5, we have the Monarca comp, where lower level pilots have the chance to taste some of that top level flying quality, and World Cup pilots the chance to warm up and sync back into that blistering Valle rhythm of racing.  Pedal to the metal, baby.  Pedal to the metal every day, as Valle is world famous for blessing us pilots with flyable weather every day of every January on record.  Only Valle in Mexico and Roldanillo in Colombia can boast of such pornographically reliable consistency.  Just get your white ass over here and you're gonna get your dose, no question about it.
After a nightmarish journey that included American Airlines personnel bullying my fragile, ancient, hand-sown-to-keep-it-together hand luggage bag out of my hands and into the terrifyingly brutal hands of airport luggage personnel; a ridiculously air-conditioned American Airlines cabine that made me feel like a refrigerated chicken on its way to the supermarket, and kept me awake and shivering and rubbing my legs for hours; a near-fight with a similarly unnerved Mexican youngster on the way to immigration (followed by an atonement at the airport toilet urinals and subsequent hugs and selfies – after washing our hands, of course); getting stuck at the Observatorio bus station for the whole afternoon on Dec. 31, while witnessing the biggest queues I've ever seen in my life, snaking in impossible, seemingly endless ovals and circles around the whole huge building; getting cheated by the bus company personnel out of my scheduled bus and then having to rest my still slightly injured and swelling foot by lying down in the aisle of another crowded bus – well, I finally made it to Valle de Bravo one hour before New Year's Eve.  I was in Valle, I was with my Mexican friends, and everything was good from then on.  The New Year's party was actually so refreshing that I can't really say what it included, only that it lasted for 12 hours and finished among old and new friends in the luxurious house and jacuzzi of my friend Alejandra, where she has so sweetly invited me to acclimatise for the beginning of my stay in Valle.  Thanks, Ale!
My glider, however, coming here in the trusty hands of my friend Luc Armant (Ozone Paragliders designer genius), has had an even worse journey than mine, as the plane that they were in caught fire and they had to land in an emergency in Minneapolis, dragging their journey into two days of waking nightmare.  It's been two days I've been expecting them, my heroes.  But they'll make it, I am sure.  Because, as everybody in this industry knows, Luc and his creations are unstoppable.
We start the racing on Tuesday.  Stay tuned and peace out.  Oh, and come to Mexico, if you can.  It's really not bad here.