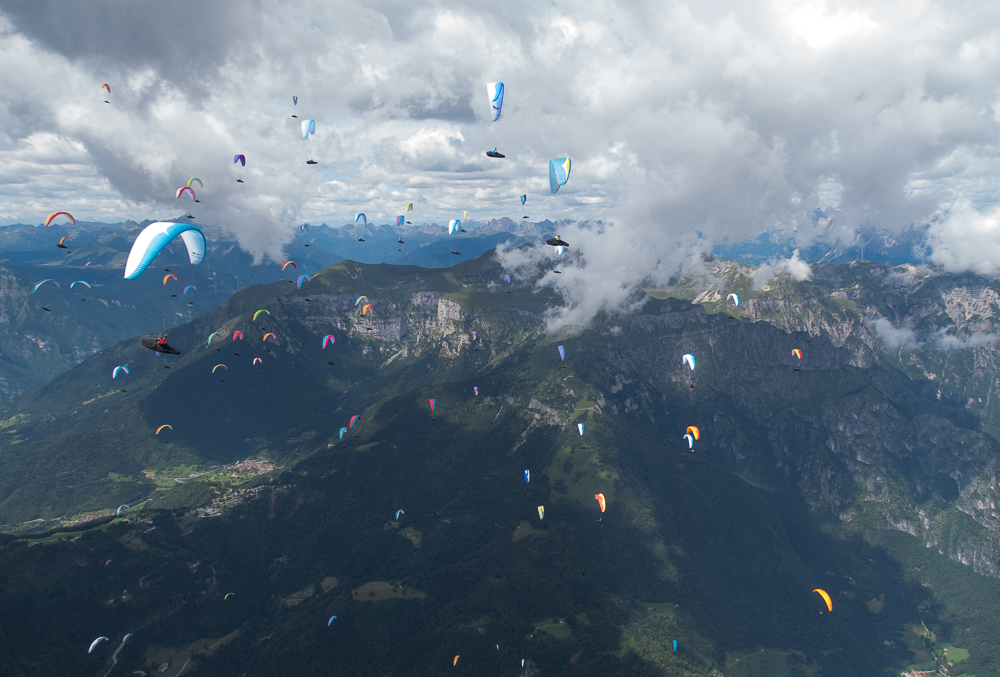 And as the start approaches, each of 150 pilots focuses on all the others, that's how our minds get super powers, connecting into that web, that super body, a collective organism naturally staying high and optimally placed, we all swirling on and on and on, and fighting for position but as gentlemen and friends, and when we hear the beep from our cockpits that means "GO NOW!" we all together turn like sunflowers, all facing in the same direction now and diving into our first glide and into the day's adventure, 
focus spearing forward somewhere far into the distance, because we're high and because these machines that we're riding are designed for racing and, maan, they glide like hell(!), so just one glide can get us waaay into the distance, that's why the mind is focused there – but also, it's checking sideways, and up, and down, on all the other fish now shoaling in the ocean – and, oh yes(!), sometimes I may forget about it, but that splash of colour called the earth is still down there, like a good and patient mother waiting for its children to return, but so far below us that she seems surreal and almost abstract, so the mind keeps brooding way above it, giddy for the lines ahead, waiting to be tested.  "GO!"
"Go!" is also what we hope to hear about the 2020 European Championship, scheduled for July in Niš, Serbia.  The organisers are optimistic that it can happen.  With my teammate Veso Ovcharov we can't wait to race with friends again!
In the photo: World Championships, 2017, start of last task, at 3800m, with the Dolomiti peeking in the back.